ABOUT THE AG – Old
The Attorney General and Minister of Legal Affairs – The Honourable Faris Al-Rawi, M.P.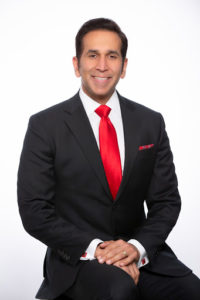 Mr. Faris Al-Rawi was appointed as the Attorney General and Minister of Legal Affairs on September 9, 2015.
Mr. Al-Rawi first entered the Parliament of Trinidad and Tobago in June 2010 as an Opposition Senator and served as the Public Relations Officer of the Peoples' National Movement for two (2) consecutive terms.
Prior to his appointment as Attorney General and Minister of Legal Affairs, Mr. Al-Rawi was heavily involved in areas of corporate commercial law, civil litigation, industrial relations, intellectual property, mortgaging and conveyancing law and securities.
Mr. Al-Rawi was admitted to practice law in Trinidad and Tobago in 1996. He holds a Bachelor of Laws with Honours from the University of the West Indies and Masters of Law in Intellectual Property, Information Technology and Alternative Dispute Resolution from King's College London, University of London. He also holds a Certificate of Legal Education from the Hugh Wooding Law School.
Mr. Al-Rawi is a polyglot conversant in English, Arabic, Spanish and French and a very strong supporter of various charities, in particular, the Scout movement and of the Trinidad and Tobago Karate Association of which he is a member and past instructor.
To date, AG Al-Rawi has debated over ninety (90) Bills in the House of Representatives from 2015 to present that range from the most recent The Interception of Communications (Amendment) Bill, 2020 to the Whistle Blower Protection Bill 2015.